My father, the late D. R. Balaji Rao, was a close friend of Swami Vivekananda. He used to tell us that Swamiji was an arresting personality with handsome features, always smiling and had a robust constitution. His voice had a pleasant ringing tone. Being older than my father by a little more than two years, he used to call my father 'Balaji' affectionately. Whenever he entered our house (42 Singarachari Street, Triplicane, Madras) in pure Marathi, he would ask my eldest sister, Amritha Bai, then about six years old, whether father was at home. She would always run up and announce with excitement the arrival of Swamiji saying, 'Father, Swamiji has come, come and receive him.' My sister was being given lessons in Sanskrit at home then and she would reel off shlokas with a clear accent at his request and he thus became very fond of her and blessed her not in the usual way but by saying, 'Let God give you great jnana.'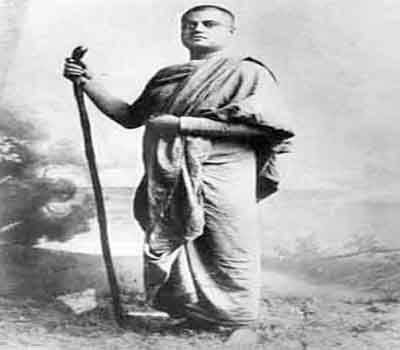 Swamiji, it appears, was fond of visiting Madras and the many holy shrines scattered all over the Presidency. Whenever he visited our house, he would ask my mother to give him dhal soup with plenty of jeerakam (cummin seeds) in it and fried vadam and appalams.
Discussions and Discourses
In the upstairs hall (which has been hallowed by his frequent visits) many philosophic discussions took place, and also discourses on the Gita to a select gathering of admirers and intellectuals. Swamiji would revolt at the impotence of Indian nationhood, express how we have been emasculated politically, economically and otherwise and say that it was still not too late to rise and drive away the foreigner and shed the foreign yoke, even though the country was rife with a narrowminded and communal and jealous outlook. However, it appears he would also say in a stentorian voice, that all was not lost and that India would have its resurgence and ultimately become independent. He laid great stress on manliness in any form.
Regular discourses on the Gita used to be held in the Ice House under the able organization of another of his close friends, Alasinga Perumal, whom Swamiji would affectionately call 'Alasinga'. At Swamiji's request, father accompanied him on his South Indian tour to some of the holy shrines. Swamiji would say that this part of India was a blessed land. He had great faith in the strength of Indian Nationhood and said his task was to unify the forces, gone at a tangent, and galvanize the nation to work, strive and succeed. My father, who was fond of tying his turban in various modes, presented one such length of cloth to Swamiji. It is this that adorns his head in the popular photographs published; and the sash around his waist which we also see in the photos was presented to him by the Maharaja of Khetri. One of those responsible for urging him to go to Chicago to attend the Parliament of Religions was my father, because of a philosophical bent of mind and also because he was a journalist, contributing to the London Journal of Psychology and Mind.
Swamiji narrated an incident to father stressing how he had a mission in life and that all his actions were guided by a superior divine force. During his peregrinations in the Punjab, Rajasthan and Kashmir, he said, due to incessant wandering from shrine to shrine and sometimes without any regular food, he one day lay down exhausted, stricken with fever and fell fast asleep under the shade of a big tree where the jungle was wild. When he woke up, he was terribly weak and hungry. A nobleman of the place at this time had a dream that a very pious and good person lay helpless due to fever and hunger and he should repair there immediately with food and fruits. When Swamiji opened his eyes after some time, he beheld a great nobleman with an array of servants holding trays of tasty food which was most welcome to him to keep his body alive.
Victor in Wrestling Bout
Swamiji had a beautiful voice and could sing well some of the kirtans. Once he was walking on the Marina with father and other friends and was challenged as a bachelor to wrestle with a pahilwan. Swamiji accepted the challenge and defeated him on the sands of the Triplicane Beach. Sometimes he would do Hatha Yoga and show by cutting his finger with a knife that he would not bleed. Swamiji said to father that there was ample sympathy for India in America and elsewhere for gaining independence and all that was needed was a unifying force.
In a lighter vein, Swamiji informed father that the urge to enjoy a hukka was so great that when he neared Port Said he borrowed one from an Arab and enjoyed smoking it. On his return from America, Swamiji said to father that he dreamt of seeing lots of palm leaf manuscripts and treasures of wise sayings and other precious literature lying buried somewhere in an island near Cyprus.
During his itinerant days of parivrajaka, Swamiji changed his name several times in order to avoid recognition and one such name was Sacchitananda by which he was intimately known to father, Alasinga Perumal and some others. It was at the request of the Maharaja of Khetri that he changed his name to Swami Vivekananda, but still he wrote to his friends from abroad as Sacchitananda.
Spiritual Power
Swamiji had glimpses of divinity. When he used to wait for father in the house, he would close his eyes and say Om with a hum vibrant with energy. Mother used to say that the whole house would, so to say, shake with his spiritual power. He wanted to give upadesham [Instruction] to father and called him thrice (since he was just finishing his bath) but when father did not turn up, told him later that he still had to eke out his Karma in this birth and in the next birth he would surely attain salvation. Swamiji would say that God would try a man in many ways, not in heaping material prosperity but subjecting him to many difficulties and miseries and calamities. He who by the strength of his mind was able to withstand the storm like a man would surely be blessed by the Lord. He foretold to father before he left for Bengal that God would try him in many ways and all these came to pass. My father lost two sons aged eight and six in quick succession and when Swamiji heard about this he wrote a beautiful letter of condolence which is reproduced below.
This treasure of advice from a great Vedantin like Swamiji is fit to be taken as wonderful consolation under any condition of adversity which afflicts human beings. As prophesied by Swamiji, father lost all in 1907, in the Arbuthnot Bank crash but he was undaunted and carried on. Swamiji would say that a man could attain salvation even by being a householder and doing his duties correctly.
On his second trip to America in 1899, the boat touched Madras but was in quarantine. Father with others went in a small boat but were not allowed to board the steamer. Only Alasinga accompanied him to Colombo. He blessed them all from the deck.
Letter to Mr. Balaji Rao
Dear Balaji,
'Naked we came out of our mother's womb, naked we return: blessed be the name of the Lord'. Thus said the old Jewish saint when suffering the greatest calamities that can befall man and he erred not.
Herein lies the whole secret of existence. Waves may roll on the surface and tempests rage but deep down there is the strata of infinite calmness, of infinite peace and of infinite bliss. 'Blessed are they that sorrow for they shall be comforted' and why? Because it is during these moments of visitation when the heart is wrung by hands which never stop for the father's cries or the mother's wails, when under the load of sorrow, dejection and despair the world seems to be cut off from under our feet—that the internal eyes open and when the whole horizon seems to be nothing but an impenetrable sheet of misery and utter despair, light flashes all of a sudden, the dreams vanish and intuitionally we come face to face with the grandest mystery in nature—Existence. Yes—then it is when the load would be sufficient to sink a lot of frail vessels—the man of genius, of strength, the hero sees that infinite, absolute, ever blissful existence per se—that infinite being who is called and worshipped under different names under different climes. Then it is that for a time the shackles that bind it down to this hole of misery break as it were for a time and the unfettered soul rises and rises until it reaches the throne of the Lord where 'the wicked cease to torment and the weary are at rest'.
Cease not brother to send up petitions day and night, cease not to say day and night 'Thy will be done.'
'Ours not to question why,
Ours but to do and die'.
'Blessed be thy name, thy holy name, O Lord, and thy will be done. Lord, we know that we are to submit. Lord, we know that it is the mother's hand that is striking, but the spirit is willing but the flesh is weak. There is, father of love, an agony at the heart which is fighting against that calm resignation which thou teachest. Give us strength O thou who saw thy whole family destroyed before your eyes with your hands crossed on your breast. Come Lord come thou great teacher who has taught us that the soldier has only to obey and speak not. Come Lord come Arjuna's charioteer and teach me as thou once teachest him that resignation in thyself is the highest aim and end of this life. So that with those great ones of old I may also firmly and resignedly cry Om Sri Krishnarpanamastu.
May the Lord send you peace is the prayer day and night of
Sacchitananda
Source : Vedanta Kesari, January, 2016